Meet the team: Aileen McIntyre, eHealth Innovation Project Manager
"I used to have to teach people that you didn't point the computer mouse at the screen," says eHealth Innovation Project Manager Aileen McIntyre.
So from helping staff making the transition from paper to computer records to joining the West of Scotland Innovation Hub in 2019, Aileen has pretty much seen it all – but there is always something new on the horizon.
"IT is now taken for granted, we all use it every day. People used to be scared of internet banking but now it's hard to imagine not having an app on your phone," she adds.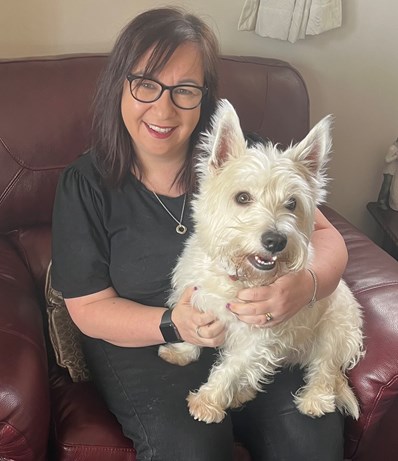 "And some of the work we do in the Innovation Hub is like that – it's preparing people for the next step in how we deliver services.
"Artificial Intelligence is the next key stage. We need to put people at ease with using it, both patients and clinicians."
Aileen, who lives in Irvine, Ayrshire, and began her journey in NHS Greater Glasgow and Clyde 20 years ago, has worked on OPERA, COPD Dynamic as well as vCreate and vCreate Neuro.
"It's all about providing a link between new and existing technologies," says the mum-of-two, who when she isn't ferrying sons Adam, 14, and Lewis, 10, between football and golf, enjoys nothing better than a coastal walk with West Highland terrier Archie
"The great part of the job is when we have to take a lightbulb moment that someone has brought us and put it into a 'proof of concept' and develop it to show how it can aid clinical decision-making.
"Co-design is all important so linking with colleagues, academics and industry helps us provide the tools for our services to deliver better care on a daily basis and ultimately benefit patients."
"Chasing down a solution to a problem presented to us can be challenging, but it is where the satisfaction in the job comes from."