Hub vCreate experts to share knowledge at London event
Our clinicians are set to host an event in London to showcase the positive impact their work in using video technology is having on neonatal and neurology care.
Professor Sameer Zuberi & Dr Neil Patel, who both work at NHS Greater Glasgow and Clyde's Royal Hospital for Children, and the University of Glasgow, will share their expert knowledge as they give an introduction into the use of clinical video, particularly smartphone, carer-recorded, current utility and novel developments at the RAF Club, 128 Picadilly, London on Thursday 30th March at 10am.
Both Dr Patel and Prof Zuberi have been instrumental in NHSGGC's adoption and design of vCreate, a secure video messaging service that helps patients, families and clinical teams stay connected throughout their care journey.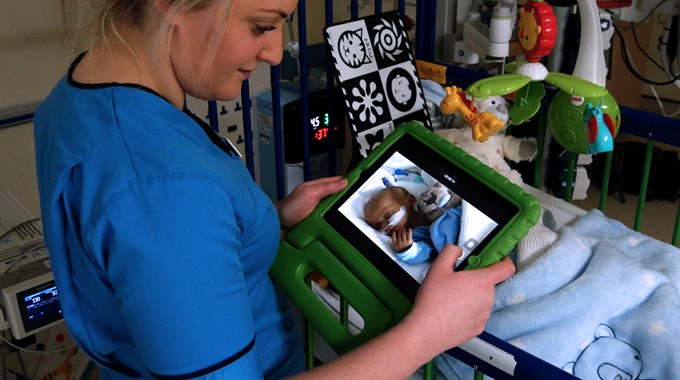 Through the vCreate platform, which is supported by the West of Scotland Innovation Hub, patients and their families can register on a secure digital platform to exchange videos and photos with members of their clinical team to offer a faster diagnosis and quicker access to treatment.
Following its successful pilot in Glasgow back in 2017, vCreate technology can be found in 80% of UK neonatal units and more than 70 neurology and neurodevelopmental services
Dr Patel said: "Our journey with vCreate actually started when a parent of one of our patients in the Neonatal Unit at the RHC asked if there was a secure way that he could check on his child when he couldn't be by the bedside. So from this we explored ways of being able to do this and began working with vCreate and our approach was developed through the West of Scotland Innovation Hub before we started to roll it out across NHSGGC and beyond.
"This can often be a very worrying time for families, so we wanted to do everything we could to help them stay connect. We're so pleased to see so many families, including using the system and telling us about the real benefits they are experiencing through it and we are delighted to be able to share this work with our colleagues in London."
As well as being used widely in NHSGGC's neonatal service, the vCreate service has also been adapted to enable by patients to share videos securely with their clinical team, allowing remote diagnosis and accelerating treatment and follow-up.
Prof Zuberi added: "We are really looking forward to seeing everyone at the event in London, which we hope will provide a great learning opportunity and generate discussion around how we have developed and implemented this technology.
"Parents often find it very difficult to describe the problems they're seeing in their child so, by taking a video at a time when the child is actively affected by the problem is useful. The key thing about this system is when parents upload their videos they also upload some clinical info about the episode. We have received excellent feedback from patient's families and we look forward to sharing more about this on 30th March."  
Book your place now by visiting: "Now You See Me" Video in Clinical Care: Developing Solutions & Tackling Challenges